so, my last entry.
pretty much explains the cause of my absence.
i've basically lost my life to the internet and i'm terrified. this is an addiction.
and despite the fact that i'm wired amost 24/7, i NEVER blog! LOLWUT.
so, updates!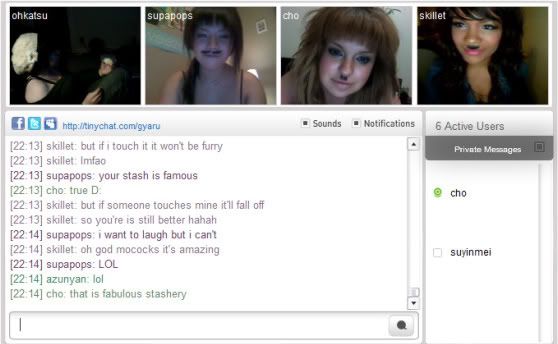 [screenshot galore coming later]
UH, BESIDES INTERNET ADDICTION.
i am in total agreeance with
SUUYAM
right now. i'm totally sick of online western gyaru communities. it's getting tiring and the 'drama' is just so over the top and ridiculous. i'm not gonna quit checking them periodically, but i think i do need a break. at the very least i will try not to make it the center of my life. [like it has been currently. god, why am i so nosy?]
other news;
I'M DONE SCHOOL FOR THE SUMMER.
oh my god, you have no idea how good this feels.
while i still have to work and whatever, i'm just so relieved that i'm done with school [for at least two months]. the stress that i've been feeling for the past few months has just been so much. now i feel FREE. i don't have to worry about anything.. at least, temporarily. it's very refreshing. i hope to make this summer a good one.
[SO HAPPY TO BE DONE WITH BIOLOGY LAB, EFF THIS ESS]
to celebrate the last italian class of the year, my professoressa organized an end-of-classes lunch at the italian association's restaurant, where our waiter was instructed to speak to us only in italian. he was hilarious and the food was awesome.
[forgot to photograph the antipasti, lol]
gnocchi e marinara!
raspberry sorbetto, omg.
and espresso! napoli-style! :'D
it's been hard for me to actually try sleeping at a reasonable hour. this past week, my usual bed time had been like, 5:00 AM. disgusting! also i've been dog-sitting for my grandparents because they went for a week-long trip to montreal [JEALOUS].
this is zoysite:
he is the love of my life. he is also insane.
i'm actually leaving the house these days. it's pretty amazing. i got to see some
IRL
friends [LOL, HOW SAD DOES THAT SOUND?] and it has been glorious. last night i went out with some of my girls for my BFF's early birthday cocktails. it was fabulous. and the week before, i got to see all my friends from high school for my broskies' going-away party. it was really nice to see everyone again. i'm gonna miss my buddies when they leave for school. )':
on a coffee date, i took this photo of my korean bff's cellphone.
the stickers tell a story. the story is retarded and amazing at the same time.
the end goes something like, 'AND THE BUNNY TURNED INTO A BEAUTIFUL RAINBOW'
the other day my boy and me went for bubbletea. we decided to try the fresh fruit slushes instead of the milk teas.
[he also got his tattoo partially coloured, if you couldn't tell]
sunsies got orange grapefruit with jelly and i got blackberry mango with jelly.
it tastes way better than it sounds. [..the grapefruit one, not so much. but at least MINE was good. :D]
JEURRI.
and i've done a bit of shopping;
an empire-waisted dress
black mini skirt with lace overlay
three pairs of earrings
gigantic ass sunglasses [as modeled by my boyfriend]
other than that, nothing has really been going on with my life. i think now that school has ended, i've become a lot more boring [if that is even possible].
BUT, my boyfriend's birthday is coming up [JULY 10TH!]! so i've been having a lot of fun with planning that and his present for this month. [his friends and me are thinking of a dick cake.. LOL.]
so today i finally got my gels done! after a hundred years!
my boyfriend's mom is always so busy at the nail salon,
i'm starting to think that she's the most popular lady there.
i was finally able to find a slot to schedule my gels in, i got those,
and she also waxed my eyebrows. mad hookups, bro. ;D
forgot how annoying it is to type with these. ffff-
YAY. [please ignore the index finger rash.. unless you didn't notice it, now i made it more visible. DAMMIT.]
i only just got them done today, but i already found time to play with those 3D nail stickers, i bought! my attempt at 3D nail design and composition is kinda fail, but i don't think it's THAT bad. i'm kinda hoping that these are reusable, though... D:
HERE'S A BONUS PHOTO OF STACKED LASHES. ENJOY THE BEARD.
thanks for following my blog, bellas..! IT WARMS MY HEART.